VISION: WHERE WE GO FROM HERE
VISION STATEMENT
To provide services in a fiscally responsible manner that promotes the continuous improvement of local government, thereby enhancing the quality of life for residents in the region.
MISSION STATEMENT
To Serve Our Members by:
Fostering municipal cooperation and communication;
Developing solutions on matters of mutual concern;
Advocating common interests at the county, state and federal levels of government;
Supporting cost-effective means of providing public service;
Offering training, technical assistance and resource information that contribute to the efficient management of local government.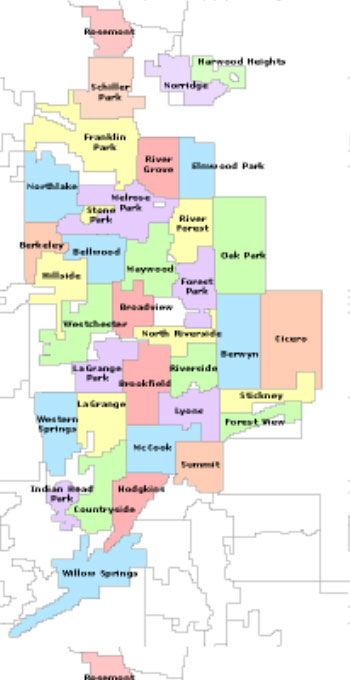 Overview
About wcmc
In 1980, the West Central Municipal Conference was founded as a regional council of governments (COG) serving the communities of west suburban Cook County. The membership roster then consisted of 15 municipalities, as the organization patterned itself after other COGs in existence throughout the Chicago metropolitan area.
The WCMC membership today totals over 51 entities, which includes 40 municipalities, 5 townships, 2 community colleges, Brookfield Zoo, and over 600,000 residents. These communities are wholly located in Cook County or contiguous thereto.  The WCMC region is over  200 square miles is characterized as the mature "inner ring" of suburbs uniquely situated between the City of Chicago and collar counties surrounding Cook; excepting bordering DuPage communities on the western boundary of Cook County.
WCMC Staff
Richard F. Pellegrino, B.A., M.A., J.D.
Executive Director
Debbie Baumgart, B.A., C.P.A.
Controller
Judy Corvo, EAP & STC
Administrative Assistant
Michael Fricano, B.A., M.P.A.
Planning Coordinator – Central Council of Mayors
Leonard B. Cannata, B.A., M.P.A., J.D.
Planning Coordinator – North Central Council of Mayors
51+ Entities
40 Municipalities
5 Townships
2 Community Colleges
600,000+ Residents
200+ Square Miles
Focus is the Future
Through the diligence, foresight and just plain hard work of those public officials and employees who built a solid foundation and framework, the WCMC is now poised to "Focus on the Future."
Quite simply, our objective is to provide a mechanism by which communities can coalesce and thereby cooperate in the public interest.
Richard F. Pellegrino, Executive Director